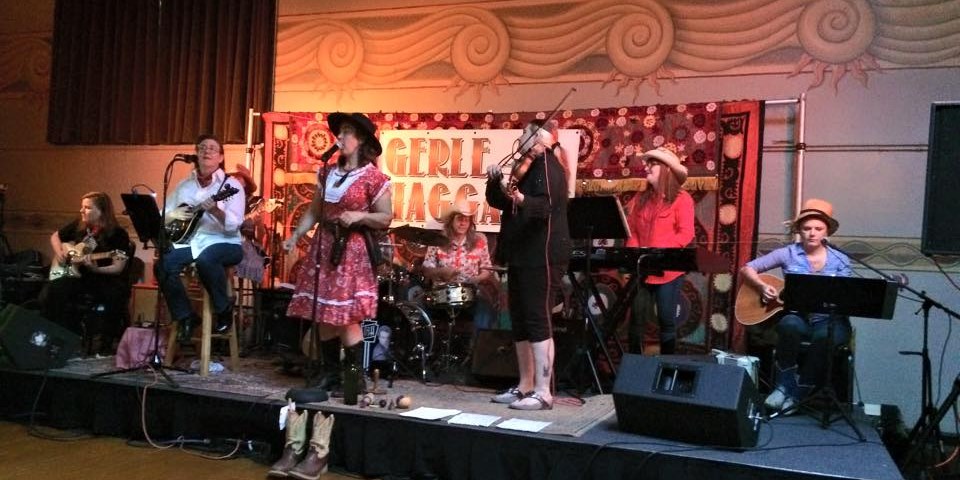 Last week Gerle Haggard Band kicked off what is looking like a very busy summer! We played The Kennedy School as well as the 1-year anniversary party for Healthy Pets Northwest's Woodstock store. Both were a tremendous amount of fun and we were so appreciative of everyone who joined us!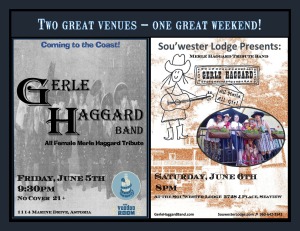 This weekend we make our debut in Astoria at The Voodoo Lounge on Friday night. We just learned that this weekend also happens to be when Goonies fans far and wide will descend on that coastal town to celebrate the 30 year anniversary of the cult film, so we look forward to seeing what kind of shenanigans that inspires. On Saturday night we head up the coast to lovely Seaview, Washington, returning to The Sou'wester Lodge for a cozy show in their cozy living room. The Sou'wester hosted one of our very first performances two years ago — back when we were a four-piece (!!!) and barely had an hour's worth of songs to play. This time around, we bring our gang of eight and will be trotting out two hours worth of fine Merle Haggard music.
From there, the shows continue all the way through July and beyond. As you can see to the right of your screen, we'll be playing all over Portland, at some of the sweetest music venues in town. Biddy McGraw's, The Deer Lodge, Salvage Works and the Alberta Street Pub (opening for the fabulous Emily Herring!). We're also performing at a benefit for Sound Equine Options Horse Rescue in Salem and are throwing in a private birthday party as well. So, we're happily busy and so looking forward to sharing Merle's wonderful music with all of you!
We also want to mention a couple of things. First off, our founder, Maria Callahan, will be off playing shows with The Carrie Cunningham Band this summer and will be absent for many of our performances, though she may step in from time to time. Her temporary departure required us to find a replacement guitarist, and boy did we luck out when we found TWO of the most talented women to join our band of Gerles!
Handling the lead guitar work, we are so fortunate to have Leanne Dunn grace us with her talent. A recent transplant from Florida, Leanne started playing guitar at age 9 and was billed as a blues guitar prodigy at age 12. She was active in the Southeastern festival and club circuit from ages 12-16, and shared the stage with Chris Duarte, Derek Trucks, and Jonny Lang. After a long break from performing, she resurfaced in her mid 20s with Tampa-based indie rock bands Dear Old Liar and Gentleman Callers, and the Tropicalia-noir duo Cavalo. In addition to Gerle Haggard, she is currently working on a solo experimental guitar project and is starting a film/dance scoring company, "Furacão Music", based in Portland and São Paulo, Brazil. Really, come and check out this woman's skills. She's incredible.
We're also super lucky to have Tasha Christensen hold down the rhythm guitar fort, but she does so much more than that. Tasha is a multi-instrumentalist who also deftly brings a wide range of vocal talent to our group. She's been playing music forever, and has been, and we're quoting, "in 19 not-cover bands and 6 cover bands." She's also an absolute joy — and plays a mean accordion! You can hear Tasha take on lead vocals on one of our favorite songs, "The Way I Am," at an upcoming show.
So — that's it for now. We look forward to seeing all of you at a show!