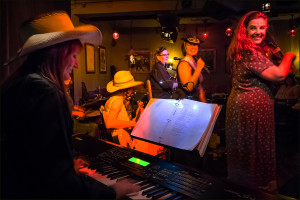 We took a good portion of the early part of the year off to work on some new material. Many of us were aching to add some of our new favorite Merle tunes into our set list and since there are "many of us," that list grew pretty long pretty fast. So, that's what we did. New songs we'll be performing this summer include "Irma Jackson," the song Merle wanted to release following the massive success of "Okie From Muskogee," but record execs deemed it too controversial and were worried it would tarnish Merle's image, so they released "Fightin' Side of Me" instead. Execs. Pshaw. Anyway, we LOVE this song.
Also added are the oft-requested "Kern River," "Sing Me Back Home," and "The Way I Am," as well as fun little ditties like "Red Bandana," and "Working In Tennessee."
You can come see us play these and SO many other fantastic Merle tunes at one of our many upcoming shows this summer. We would love to see you! And, if there are any favorite songs you would like us to cover – please let us know!
Upcoming Shows:
May 28th: The Kennedy School
June 6th: The Sou'wester Lodge
June 19th: Biddy McGraw's
June 27th: The Deer Lodge
July 18th: SEO Horse Rescue Benefit
Sept. 12th: The Sou'wester Lodge
You can get details about these and other upcoming shows on our Facebook Event Page.
Oh, and here's our version of that fabulous "Irma Jackson!"