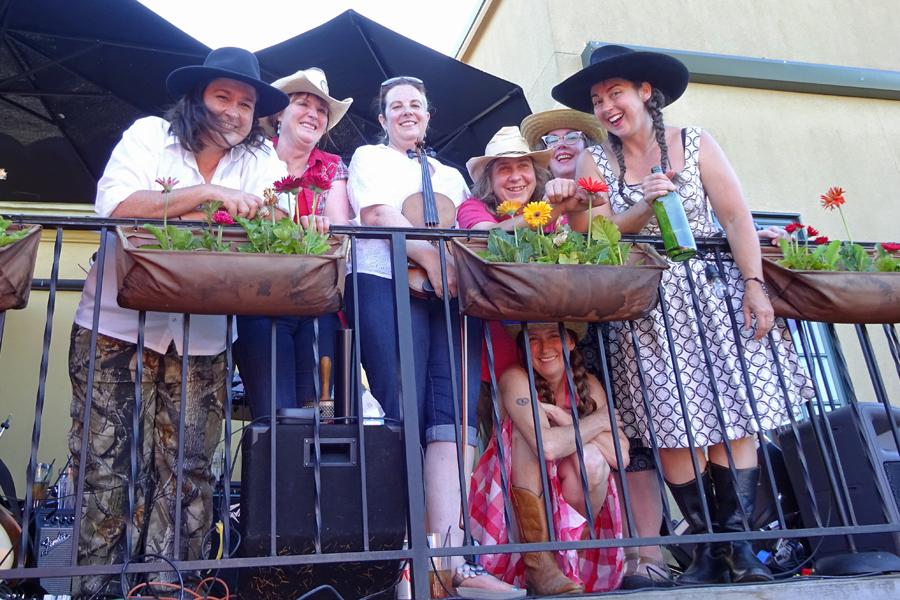 Last Sunday we played a Happy Hour slot at The Station in NE Portland. What a fun venue! Despite the heat we had many well-wishers among our audience, some new folks and some old friends! The Station is a fairly new tavern, set in a historic Portland building on 27th and Alberta. Built in 1931, it used to house the Northwestern Electric Company, hence the name, and you can still see remnants from its past throughout.
We played on the patio, or should I say, we played above the patio, in a little balcony space about 15 feet over the crowd. It's a good thing we're all such good friends, because the stage footprint was pretty small, but at this point we're getting really good at fitting all seven of us in a tight space!
Photographer Elizabeth Campbell of Oregon Music News came and stayed to snap some pics (that's one of her pics above – you can see the full gallery here), getting pretty inventive and downright acrobatic in her venture to get the best shot! Claire's husband Dan also videoed a bit of our set, the last minute or so of "Working Gerle Blues," and our closing song, "Okie From Muskogee." Have a look and a listen, and thanks so much for stopping by!
We're playing a benefit for Sound Equine Options this Saturday, July 12 and will be back in Portland at the homey, lovey Sloan's Tavern on Friday, August 1. We look forward to seeing you all soon!